Carlen Charleston has spent the last five months traveling the country to spread his message of unifying America.
His mission has taken him to 112 cities across 48 states.
In each city, his organization, E.R.A.S.E (Eradicate Race and Strengthen Ethics) Race, The American Unity Movement, helps arrange guest speakers, dinners, service projects, festivals and concerts all with the goal of bringing people together.
But he said a stop in Arkansas last October exemplifies his vision best.
Charleston, a retired lieutenant colonel in the U.S. Marine Corps, was the guest speaker at the North Texas 27th annual Dr. Martin Luther King, Jr. Celebration, which took place Monday at Marcus High School.
He told a crowd of Lewisville ISD students, parents and elected officials about the goal of E.R.A.S.E Race.
"In short, I endeavor to get rid of the concept of race so people will begin to connect and engage with each other without regard to skin color," Charleston said.
His tour includes lots of conversations. Monday he shared with the audience about one that was important to his cause.
When he was in Arkansas he decided he wanted to meet Hazel Bryan, one of the two teenagers at the center of an iconic photo that illustrated the racial tension in America in the 1950s.
The photo
In 1957, Little Rock Central High School in Little Rock, Arkansas was the center of the integration in the city. On Sept. 4 nine black students were escorted to school by members of the National Guard. They were surrounded by white students who were taunting them, chanting, "Two, four, six, eight, we will never integrate," Charleston said.
A newspaper photographer captured the moment one of the white students, 15-year-old Bryan, shouted at Elizabeth Eckford, a black student who had been separated from her group. The photo became famous for depicting what many have called pure hatred on the face of Bryan.
Charleston said he saw the photo when visiting a museum in Arkansas. He wondered if anyone in the picture still lived in the area.
Charleston said his wife performed an online search, and soon they had Bryan's address and phone number. Charleston said his wife advised him to call before going to her house.
He didn't. Soon Charleston was driving down a dirt road in rural Arkansas in search for Bryan's home.
Charleston said when he arrived at the house, Bryan's husband answered the door. The greeting wasn't exactly warm.
"What do you want?" her husband said.
Charleston said he simply explained his organization.
"I had to be serious and disarm him with my demeanor," Charleston said.
Charleston said after explaining his mission, Bryan's husband seemed to open up. He said Bryan came around the corner and welcomed him as well. And they talked – about Bryan's apology to Eckford five years later and the pain she's lived with for decades.
"This is really what E.R.A.S.E. Race, The American Unity Movement is really all about. It's about healing," he said. "It's about getting people to unify not just for the sake of unity but so we can come together and heal each other.
"We became one family right there," he said.
One family
Charleston said the key to his mission is to unite all Americans as one human race, or family.
"I think it's important that we see ourselves as one human family," Charleston said. "The problems that Dr. King saw and many of the problems that we see today hinge on the fact that because of the race concept, some have the idea that we are separated or that some races are superior."
Charleston said "us versus them" mentality creates its own problems and prevents society from solving others because of division. Thus, he said, family should be more encompassing.
"The question we must ask is, how large is the family you created?" Charleston said. "If you say it's your mom and sisters and dad, I want to challenge you. There's a much larger family."
He also challenged the audience to remember the past but to focus on the future. He said it can be a bright future if America becomes one family.
"It's important to know who hurt me in the past," Charleston said. "But it's more important to realize who is here to help me now."
Celebrating unity
Monday's ceremony included representatives of different religious faiths and performances from the Marcus choir, the Central Elementary Latino Dancers and dancers from Lewisville High School.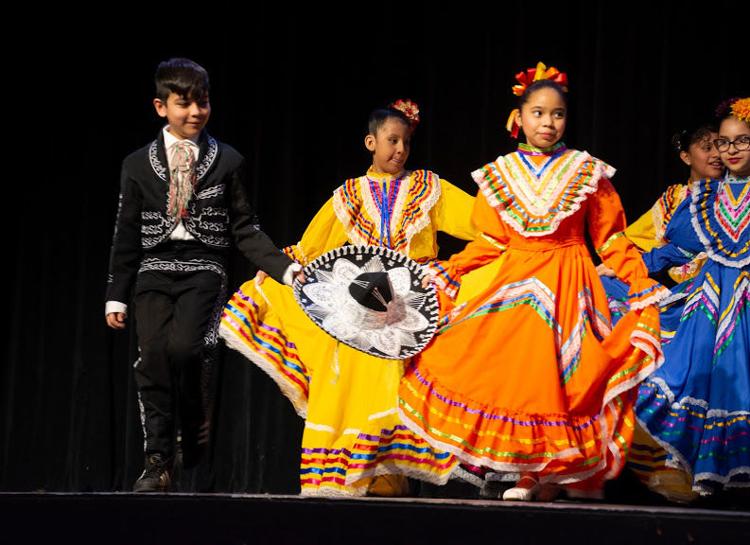 In addition, the MLK essay, photography and art contest winners were recognized from across the district. The theme of the contest was "One Human Family: A Positive Vision for 2020 and Beyond."
Jenna Schmidt, a junior from Flower Mound High School, won the Chairman's Award for her painting.
The winners' art will be on display at the MCL Grand Theatre in Lewisville from Jan. 25 to Feb. 22.