THE COLONY — After 14 innings of hard-nosed, defensive softball through two games in its Class 6A bi-district playoff series, the Flower Mound bats came alive on Saturday with the Lady Jaguars' season hanging in the balance.
Combining for 10 hits in Games 1 and 2, Flower Mound produced 11 in Game 3 against McKinney Boyd — at last cracking the code to take a 6-0 victory to win the best-of-three series and advance to the area round of the postseason.
"That team is tough and their pitcher (Kinsey Kackley) is amazing," said Mark Larriba, Flower Mound head coach. "It probably took our entire team to wear her down. She was bombing us early on but we stuck to our plan and just tried to touch the ball. It's awesome. God is good — a lot of times people talk about their faith when things go good, but we've had our share of disappointments so we're just thankful we get the opportunity to have something like this."
The Lady Broncos, despite entering the playoffs seeded fourth out of District 5-6A, were game against the 6-6A champions. Flower Mound carried just one regular-season loss into the postseason but was tripped up by Boyd on Thursday in Game 1, 2-0, before returning the favor Friday in another 2-0 verdict defined by pitching and defense.
Flower Mound used its depth at the plate and in the circle to steer momentum in its favor in Saturday's decisive ballgame. The Lady Jaguars had 14 players log at least one at-bat and alternated between pitchers Landrie Harris and Abigail Jennings.
Harris threw the entirety of Games 1 and 2 but was needed for just 1.1 innings on Saturday — holding Boyd to one hit and striking out a pair. Jennings made up for lost time in her first action of the series, striking out the first five batters she faced en route to pitching 5.2 innings of one-hit ball along with 10 strikeouts.
"Abigail is good, but since Landrie had a lot of success against their top three we knew Abigail could come in and produce," Larriba said. "Our plan was to wear them out and we didn't want [Harris] to get worn out. We have a great staff and Abigail did the bulk of the work today."
The long game paid off Saturday after a pair of tough outings against Kackley. Among the nation's premier strikeout artists, Kackley shut out Flower Mound behind a four-hit, 15-strikeout effort in Game 1 on Thursday. Flower Mound found a bit more success as the series wore on, culminating Saturday in scoring six runs between the third and fifth innings.
The Lady Jaguars manufactured an early lead through a bases-loaded walk drawn by McKenna Andrews — the first of three by the Flower Mound shortstop — for a 1-0 lead. Two batters later, Logan Halleman stole home plate as Lady Bronco catcher Savanna Luther was throwing the ball back to Kackley after a called strike for a 2-0 advantage.
"We try to think of things we can do in practice to win ballgames," Larriba said. "We had been practicing stealing home for about a month now and finally got the opportunity to go for it. Thankfully it worked for us."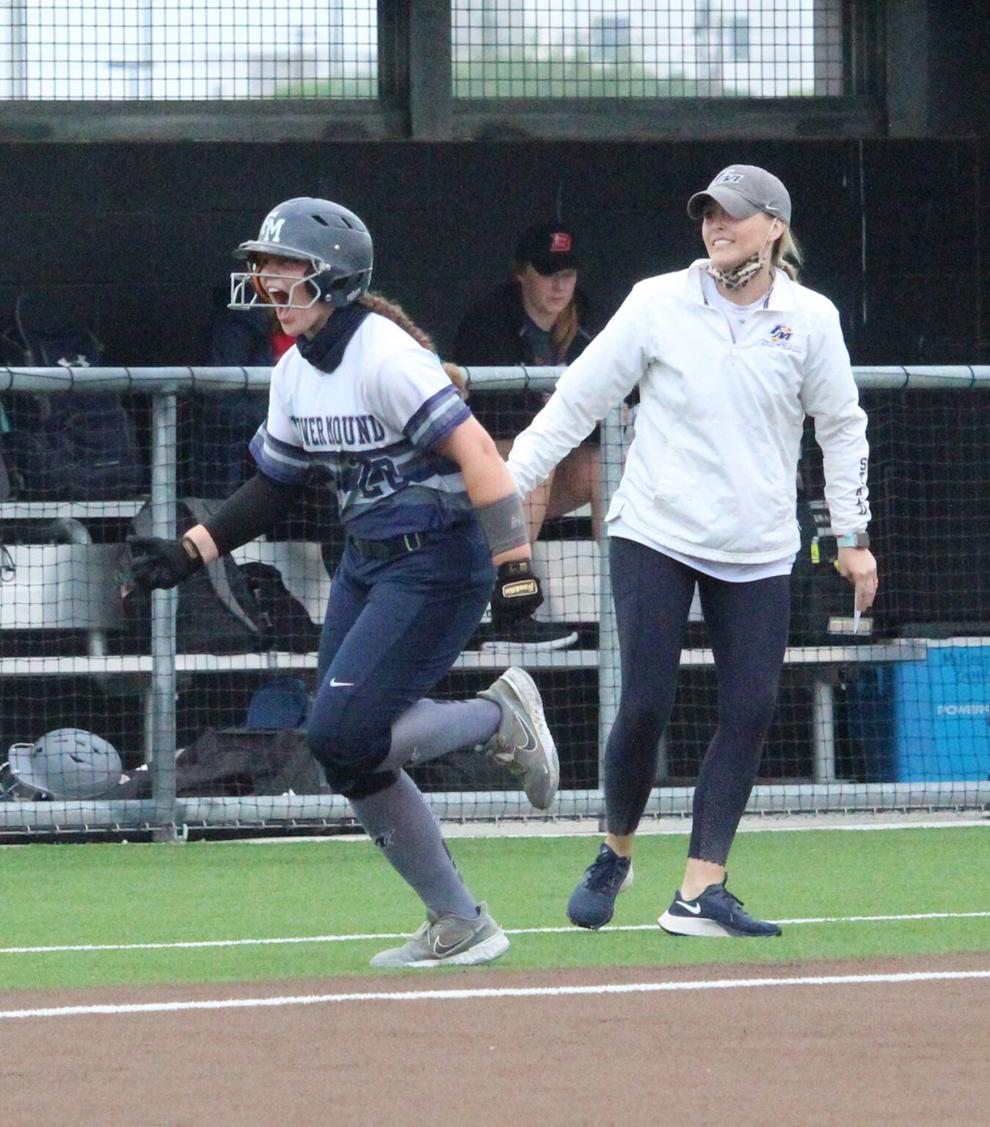 The bats also had their say, and none more so than Katie Cantrell's. The Flower Mound catcher went 3-of-4 on the day, highlighted by a three-run home run to center field in the top of the fourth inning to grant the Lady Jaguars their largest lead of the series at 5-0. Halleman and Harris added two hits apiece as Flower Mound punched its ticket to the area round for the second time since 2015. They'll draw Grand Prairie in a second-round series at a time and place to be determined.
The Lady Broncos, meanwhile, close the book on a season that produced the program's first back-to-back postseason appearances since 2014. Part of that success centered around Kackley, who led the nation in strikeouts as a sophomore (497) before suffering a pair of ACL injuries. She returned in time to pitch Boyd to a fourth-place finish in 5-6A, striking out 201 batters in just 12 outings, before taking a game off the 6-6A champions in the bi-district round.
"These are amazing kids," said Maureen Fritz, Boyd head coach. "Kinsey is such a great kid, overcoming two ACL injuries over the last two years and getting to play her senior year. She helped get us to the playoffs, and although I would have preferred to go one game with Flower Mound, they hadn't seen [Kackley] yet, so I felt like we had a chance to do some good things in this series."
Wildcats, Hawks punch playoff tickets
The mad dash to the finish line in 6-6A baseball reached its conclusion on Saturday, with Hebron and Plano locking up the last two playoff spots in the district.
The Hawks and Wildcats were among four teams in the postseason mix entering Friday's round of ballgames, with Flower Mound and Plano West also alive. The Jaguars came up short in a 4-0 loss to Coppell, while Plano forced a split in its head-to-head series with West with a 13-5 victory that drew all three programs even for third place at 7-7. On Saturday, Hebron joined that mix after a 3-1 victory over Lewisville to create a four-way tie.
That victory loomed large for the Hawks, who clinched the No. 3 seed by virtue of having the best head-to-head record (4-2) among the four teams tied. Under that same tiebreaker, Plano and West were knotted at 3-3 and Flower Mound was eliminated from contention at 2-4.
That left the Wildcats and Wolves to decide the final postseason spot Saturday evening in a play-in game won by Plano, 8-3.
The Wildcats picked up where they left off from producing a season-best 13 runs against West the night before, clubbing 11 hits in Saturday's rubber match. That included two RBI doubles in the fourth inning as part of a five-run frame that helped Plano blow open a 3-2 ballgame for an 8-2 lead. 
Logan Anderson and Jacob Prokarym were responsible for the extra-base hits, the latter scoring two runs. Ashton Cason, who went 3-of-4 with three RBIs in the win, added an RBI single in between. Troy Piesker and Dennis Sutton both logged two hits as well, as Plano booked a return to the postseason in its first year under head coach Rick Cremer.
They'll take on 5-6A champion McKinney Boyd in a bi-district series at a time and place to be determined.
5-6A settles seeding logjam
Not long removed from Allen, Prosper and Denton Guyer all tying for first place in 5-6A softball, that same trio sat gridlocked for second place at 8-4 on the baseball diamond. The result was a seeding tournament to determine the league's second, third and fourth seeds for the postseason.
Played on Saturday, Guyer's bats had their way with Allen for a 12-3 victory that locked Allen into the No. 4 seed. Guyer then took on Prosper, which edged the Wildcats 6-5 to solidify Prosper as the No. 2 seed and Guyer as No. 3.
While top seed Boyd awaits Plano in the opening round, Prosper will take on Hebron, Guyer meets Coppell and Allen draws Marcus.