FRISCO — For the first time in its decorated program history, the Flower Mound softball team is headed to the UIL state tournament. 
Early on, the Lady Jaguars began forging that path through attrition, grinding out three-game series wins in the bi-district and regional quarterfinal rounds. Even before taking the field Thursday for the start of the regional finals, the Lady Jaguars had already played in five elimination games.
Over the last two weeks, however, Flower Mound has paired that resilience with its most emphatic stretch of offense all season — scoring double-digit runs in four of its last five games. 
One night removed from run-ruling fellow powerhouse Prosper 11-0 in Game 1 of the regional finals, the Lady Jaguar bats were white hot once again on Thursday, crossing the double-digit threshold through five innings in Game 2.
Flower Mound needed every last run to withstand a late surge by the Lady Eagles and hang on for a 13-9 victory at Prosper Rock Hill High School. The Lady Jaguars matched a season high in runs scored, sweeping the best-of-3 series and securing a spot in the Class 6A state semifinals on June 5 at The University of Texas in Austin.
"You give thanks to God and all the glory to him," said Mark Larriba, Flower Mound co-head coach. "With our team, if it's not one person then it's the next. These girls pick each other up and the chemistry is great, plus we're playing pretty well right now. We're stringing some good stuff now."
After averaging 5.3 runs through the first three rounds of the playoffs, the Lady Jaguars have ratcheted up their scoring to 12.0 runs per contest between the regional semifinals and regional finals. One of the constants in that barrage has been the bat of junior McKenna Andrews, and she set the tone once again on Thursday by launching a solo home run in the top of the first inning for an early 1-0 lead. Andrews was part of the Game 1 onslaught the night prior, homering in that contest as well.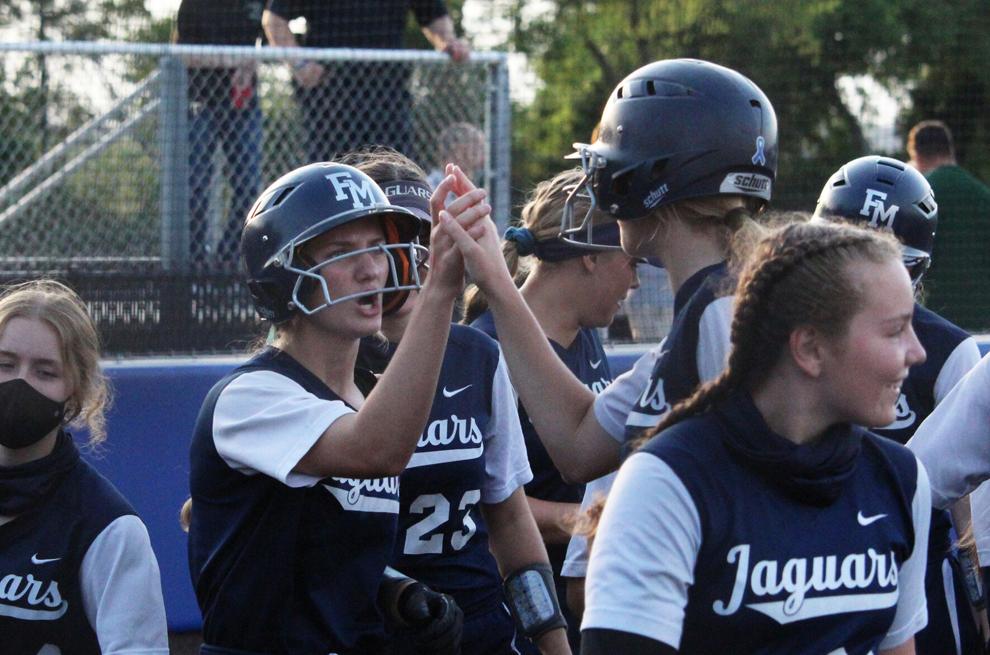 "I've never seen a player that's been locked in like this," Larriba said. "In the playoffs, she's been unbelievable. Even back when she was a freshman, she was hitting big time for us in the playoffs."
It was a sign of things to come on both sides of the diamond at Rock Hill. Across Thursday's ballgame, Flower Mound and Prosper combined for 22 runs on 25 hits, including four doubles, two triples and two home runs. Initially, that firepower favored the Lady Jaguars, who poured on four runs in the second inning and seven more in the fifth en route to a 13-3 lead — notable, considering Prosper entered the regional finals having allowed just eight runs total through the first four rounds of the playoffs. The Lady Jaguars totaled 24 runs in two games against the Lady Eagles.
Top 5: Prosper intentionally walks McKenna Andrews, but there's no reprieve pitching to Carsyn Lee. She finds the gap to score 2 runs and extends the Lady Jag lead to 8-3. Lee is 2/3 and has 3 RBIs so far. pic.twitter.com/rYFMQb9YTR

— Matt Welch (@MWelchSLM) May 28, 2021
"We've got girls who are sacrificing hacking away for homers and instead bunting to move runners and scratch a run or two and let the pitching and defense carry us from there," Larriba said. "But we knew we'd have to swing and we had to change our game plan a bit against Prosper. They're going to score runs with such a potent lineup, and we knew we'd have to score some too."
Although the Lady Eagles tried to subdue Andrews by intentionally walking the Flower Mound shortstop three times on Thursday, there wasn't much reprieve elsewhere in the lineup. One spot below Andrews was junior Carsyn Lee, who responded by going 2-for-4 with two RBIs. Freshman Emma Wier knocked in two runs in her lone at-bat, and sophomore Logan Halleman tallied three RBIs of her own on a two-hit night — the last coming on a two-run triple in the fifth inning that staked Flower Mound to a 13-3 advantage.
The Lady Jaguars totaled 15 hits in the win, including three apiece from sophomores Landrie Harris and Katie Cantrell.
"The girls have worked really hard," Lee said. "We struggled a little bit in the preseason with our offense, but I feel like we're on a roll, we're working together and cheering for each other."
Top 5: We're in run rule territory. Flower Mound adds runs on a bases loaded walk and a wild pitch, and then Logan Halleman belts this one to score 2 more runs and make it 13-3(!!) for the Lady Jags vs Prosper. Helluva statement being made by Flower Mound this series. pic.twitter.com/5udefmKIR2

— Matt Welch (@MWelchSLM) May 28, 2021
Still, the Lady Eagles didn't go quietly into the night. After falling down by double digits for the second consecutive ballgame — prior to the regional finals, Prosper's largest margin of defeat was by six runs — the Lady Eagles fired away six unanswered runs to trim the gap to 13-9 entering the seventh inning. The familiar combo of juniors Elizabeth Moffitt and Sydney Lewis sparked the rally by combining for three RBIs in the fifth inning, two coming off a Lewis homer. Moffitt knocked in two more runs the following inning after sneaking a fly ball just inside the first-base foul line as part of another three-run frame for the Lady Eagles.
"After losing two games in district, they've played like their backs are against the wall," said Todd Rainwater, Prosper head coach. "They never stopped fighting, they never stopped believing. I think that's why it hurts so much — never for a second did they not think they would find a way to pull it out."
Bot 6: Prosper continues to chip away vs Flower Mound. Elizabeth Moffitt sneaks one inside the foul line to score 2 more runs. What started as a 13-3 deficit is down to 13-9. pic.twitter.com/9kJhjP1oQd

— Matt Welch (@MWelchSLM) May 28, 2021
Flower Mound suppressed any further heroics by the 5-6A co-champions from that point forward. With Harris in the circle for the seventh inning, Flower Mound retired Prosper in order to sew up the win and a trip to Austin next week.
"We've worked really hard to where we are," Lee said. "All these teams out here are really good and really talented, so just knowing we were able to overcome all that is amazing."
As the Lady Jaguars continue their historic run, Prosper's 2021 campaign comes to a close at 29-5-1 overall. The Lady Eagles advanced to the regional finals for the first time since 2004 and will look to recapture that magic next season with more than two-thirds of their starting lineup projected to return.
"This hurts right now because of how much they've invested in this, how they got along and how they loved each other," Rainwater said. "But when they wake up tomorrow, they need to realize that they made it to the regional finals and had a great season and be proud of everything this team accomplished."