DENTON — Through 14 innings, not much has separated the Flower Mound and McKinney Boyd softball teams. 
That goes as far as identical scores in the first two games of the teams' bi-district playoff series right down to scoring runs in the exact same innings in each ballgame. Whereas Boyd drew first blood in a 2-0 upset win in Game 1 on Thursday, a Lady Jaguar team getting its first taste of high-stakes playoff softball rose to the occasion to draw the series even with a 2-0 victory of its own on Friday at Denton Guyer.
"This feels like two very evenly matched teams. We're both similar and maybe not the best matchup for each other," said Mark Larriba, Flower Mound co-head coach. "Last night, they scored one run in the first inning and we did today. It was the same in the sixth. It's a 2-2 game in a 21-inning game."
Flower Mound and Boyd will declare a series winner on Saturday with Game 3 set for 10 a.m. at The Colony. If Thursday and Friday are any indication, expect offense to be at a premium.
Two teams built on pitching and defense have lived up to their reputations with Flower Mound's Landrie Harris and McKinney Boyd's Kinsey Kackley trading blows in the pitcher's circle. Through two outings, Kackley has struck out 24 batters to Harris' 20, and in 13 innings pitched, both aces have allowed just two runs apiece.
"It's unbelievable," Larriba said. "We tracked [Kackley] all year long and knew she would be really tough. I'm just happy for her. She has fought through a couple injuries and is getting to pitch her senior year. Unfortunately we have to face her, but [Harris] and her are just battling it out."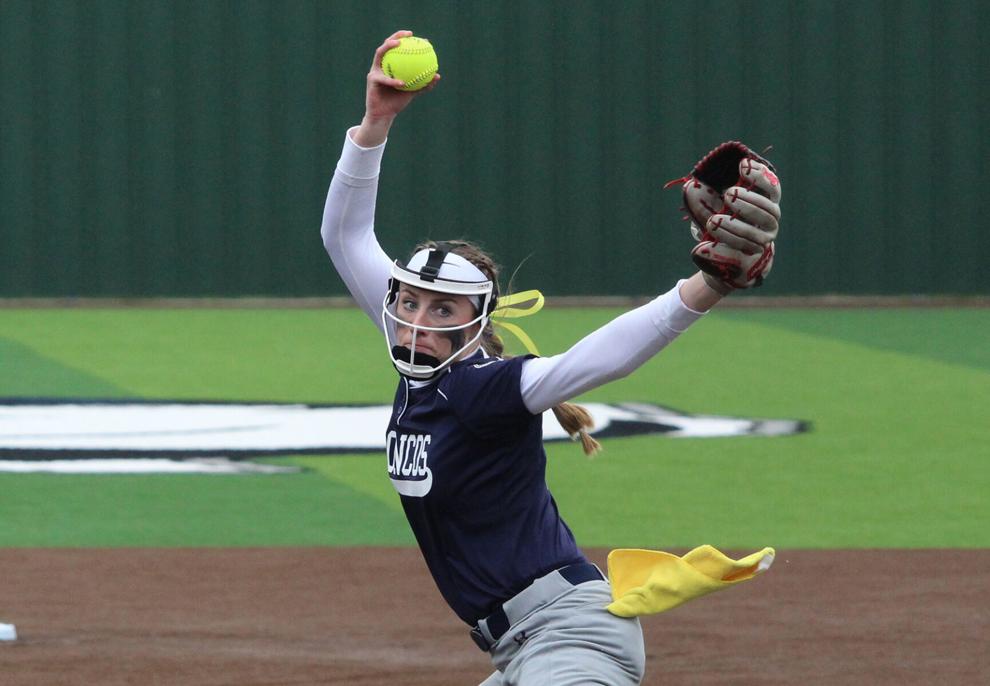 The difference has merely been whichever pitcher gets a modicum of run support first. After falling behind in the first inning on Thursday, Flower Mound responded in kind by putting the Lady Broncos on the defensive on Friday.
Logan Halleman led off the bottom of the first inning with a triple and scored two batters later following an RBI single from McKenna Andrews. Whereas offense was tough to come by on either side Friday, Andrews' bat was a bright spot — the shortstop went 2-of-3 with one run and one RBI. She doubled to lead off the sixth inning before the Lady Jaguars fell back on a timely short game with a pair of bunts, including one from Carsyn Lee that took an unexpected carom off the bat and over Kackley's head to score Andrews for a 2-0 lead.
"We went with the short game and lucked out a bit," Larriba said. "We popped it over the pitcher's head, which wasn't intended but sometimes you get lucky. But we had to take that chance because we needed another run."
The Lady Broncos received hits from Katy Loera and Ronnie Sommers in the setback, unable to scrape together the timely shot that willed the team to hand Flower Mound just its second loss of the season on Thursday. The Lady Jaguars made sure to enter Friday with a sense of urgency.
"There's nobody on our team who starts and has playoff experience," Larriba said. "Last year took away that opportunity for a lot of them, so I think early on it may have felt different for a lot of them, but the seniors talked about really having to ratchet up and they did that. Those seniors really prepared the team well."
The winner of Saturday's decisive Game 3 will advance to the area round for a meeting with either Richardson Berkner or Grand Prairie at a time and place to be determined.