In recent years, there has been a 7-on-7 revival within the Marcus football program, and the results have shown.
Part of that coincided with the Marauders having a Division-level quarterback in Garrett Nussmeier, who rewrote the program record books during his high school days and is now preparing for his redshirt freshman season at LSU.
Marcus has remained plenty formidable behind center, and that has translated to more summertime success in 7-on-7 — evidenced once again on Saturday as the Marauders went unbeaten at a state-qualifying tournament hosted by Justin Northwest and qualified for the Division I state tournament.
"We believe that 7-on-7 is just another outlet to help our team improve and win football games. We want to win every game we compete in, but we do this to prepare ourselves to win games when it counts in the fall," said Tim Morrison, Marcus offensive coordinator. "Everything we do offensively and defensively is based off what we want to do during the season, and that really helped us out coming off the spring with all the installation and everyone knowing what needs to be done."
Marcus has been active on the 7-on-7 circuit during the offseason, already competing in qualifying tournaments in Melissa and Plano so far. The Marauders compiled a 5-2 record between those two SQTs and that experience paid dividends during an authoritative showing in Justin. Across its four games played on Saturday, Marcus outscored opponents, 117-27, with no margin of victory closer than 12 points.
The Marauders tore through their three pool play games, getting the better of Keller Timber Creek (26-6), Azle (32-2) and Denton (25-13). Marcus was just as convincing in the qualifying round, topping Grapevine 34-6.
The Marauders thrived despite a less-than-full deck for Saturday. Morrison estimated that the Marauders were without five receivers for the SQT, which meant calling up freshmen and having players see time on both sides of the ball.
But Marcus didn't miss a beat, and a big reason why was the play of quarterback Cole Welliver.
"[Welliver is] directing traffic out there since the coaches can't call plays," Morrison said. "But a big part of a quarterback's growth can be during 7-on-7 season, knowing what he likes in different situations, who he likes to target, what he sees. After each game, we can point out things we saw in certain series, but I thought he had a big day and was very accurate."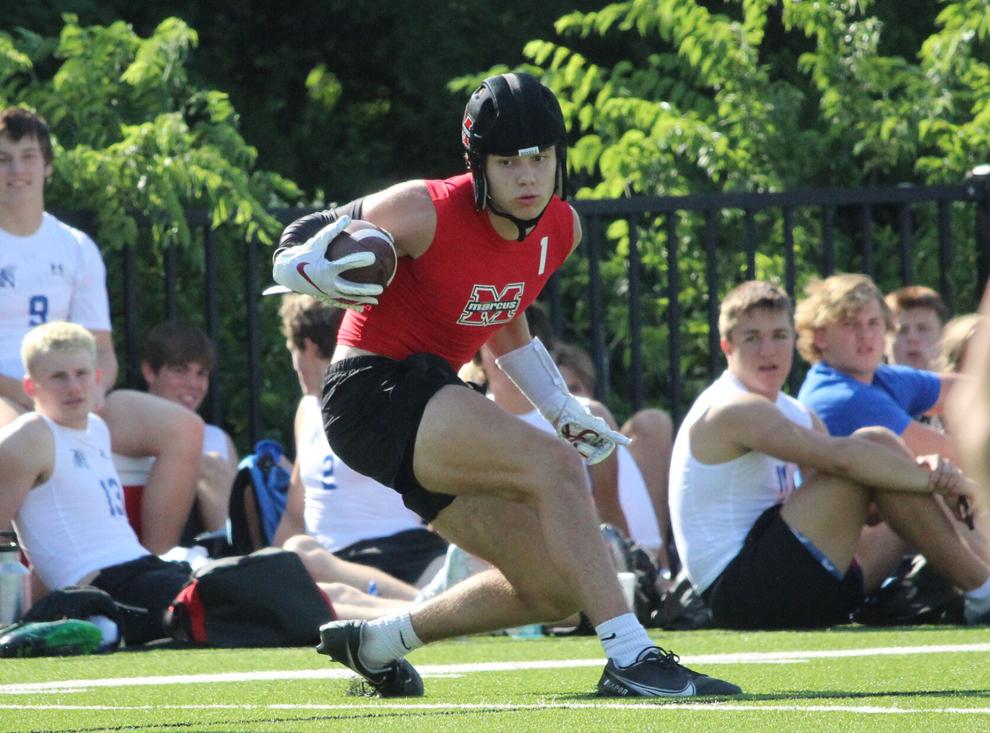 Welliver spread the wealth to plenty of capable targets, including several highlight-reel grabs by Isaac Khattab, who's coming off an all-district second-team junior season. Morrison noted that Mason Chavis and Aidan Grummer were among the other featured parts in the Marcus offense.
"Isaac is a special player. He sometimes gets overlooked because we have Ashton (Cozart), but Isaac is a stud for us," Morrison said. "He's a guy we can always count on. He reads the defenses really well and the leverage that the corners give him, and he can relay some ideas back to Cole. We were missing so many guys on Saturday that Cole felt really comfortable going to Isaac."
The Marauders averaged a stout 29.3 points per game for the tournament and had plenty of support on the other side of the ball as well. Marcus allowed just 6.8 points per game on defense, surrendering just four touchdowns all morning and limiting three of its four opponents to single digits — no small feat in a pass-happy game like 7-on-7, which discourages contact between receivers and defensive backs. Through their three SQT appearances, the Marauders' defense is allowing just 9.3 points per game.
"I think that's a testament to coach (Scott) Wells and our staff defensively," Morrison said. "Those guys keep it simple. Our kids know when they're vulnerable and how to fix it. We don't pretend that there aren't voids because there's some spot to attack in every defense and we keep it simple for our kids so they're able to defend where teams may try and attack."
The Marauders are chalked in experience on the back end as well, with safeties Chance Sautter and Jake Ballard, as well as cornerbacks Mason Whitesell and Kole McKnight, all entering their senior years. Sautter, Ballard and Whitesell were all-district picks as juniors.
Saturday marked the third time in the past four years that Marcus has qualified for the state 7-on-7 tournament — the event was cancelled in 2020 due to the COVID-19 pandemic. The Marauders have competed at the state tournament six times in program history, the first stretch coming early into the event's history in 1999, 2000 and 2002.
Marcus is also the second program from Lewisville ISD to qualify, joined by Hebron later this month when the Division I state tournament takes place June 24-25 at Veterans Park and Athletic Complex in College Station.