PROSPER — On Monday, the Marcus softball team wasn't even assured so much as a playoff berth. A few days later, the Lady Marauders were celebrating a milestone occasion that they've been chasing for nearly a decade.
For the first time since 2014, Marcus punched its ticket to the area round of the playoffs and did so with exclamation point on its bi-district series against District 5-6A champion Prosper. Over two games played in a best-of-3 series, the Lady Marauders totaled 24 runs with 10 coming over the final two innings on Friday for an 11-5 victory in Game 2 to seal the series sweep.
"This week has been one of the craziest but best roller coasters I've ever been on," said Isa Alejandro, Marcus junior. "We walked in on Monday and talked about doing this all as a team. We just fed off that energy and were proud of what we did, and we carried it over to this series. We just kept telling each other that we could do this together."
FINAL: Marcus 11, Prosper 5Wild. @marcus_softball wins a play-in game on Monday and then hangs 24 runs in a two-game sweep of the 5-6A champs. Electric stuff up and down the lineup from Marcus to advance to the area round. pic.twitter.com/CGzFzNBKIm

— Matt Welch (@MWelchSLM) April 30, 2022
The Lady Marauders clinched the No. 4 seed in District 6-6A on Monday after routing rival Flower Mound, 7-0, to set up a meeting with a Prosper team ranked No. 1 in Class 6A by DFW FastPitch following an unbeaten run through 5-6A. Marcus was unfazed, blasting the Lady Eagles for a 13-3 run-rule verdict in Game 1 on Thursday.
Prosper looked to have stemmed the tide for much of Friday's rematch, limiting Marcus to one run on two hits through five innings and building a 5-1 lead as a result. The flip switched in the sixth inning for the Lady Marauders, who strung together back-to-back five-run innings for a torrid rally past the 5-6A champions.
"We really all got fired up. We came together and decided to do this as a team," Alejandro said. "As soon as one domino fell, everyone followed and we just kept getting each other hyped up and fed off of each other."
Fittingly enough, it was senior Alexa Hanish who lit the match. Hanish, already with a single and a solo home run under her belt, launched her second shot over the left-field wall for a two-run homer that trimmed the gap to 5-3. One batter later, senior Mikaela Olguin did the same — depositing one over the wall to make it a one-run contest.
The Lady Marauders managed to load the bases with two outs in the frame, but only after Prosper elected to intentionally walk senior Tori Edwards — the 2021 6-6A offensive player of the year — to bring Alejandro to the plate.
"Before today, I didn't like it very much," Alejandro said of teams intentionally walking Edwards to get to her. "Tonight, I used it as motivation. If they're going to be afraid of [Edwards] then I'll make them regret that decision."
It was a choice Prosper made three times on Friday, and Alejandro was all too willing to capitalize. She gave Marcus its first lead of the ballgame after sending a two-run single off the wall for a 6-5 advantage in the sixth inning.
Alejandro put the finishing touches on another five-run inning for the Lady Marauders in the seventh under those same circumstances. After Prosper intentionally walked Edwards, Alejandro plated two more runs on an RBI single to make it 11-5.
Between the sixth and seventh innings, the Lady Marauders totaled 10 runs on 11 hits.
"It took us a little bit because (Prosper pitcher Reese) Renfrow had really good spin on the ball and was hand-cuffing us a bit early in the game," said Christy Tumilty, Marcus head coach. "We weren't squaring it up well at all, but we stayed after it. We worked hard not to chase bad pitches and just kind of wore her down."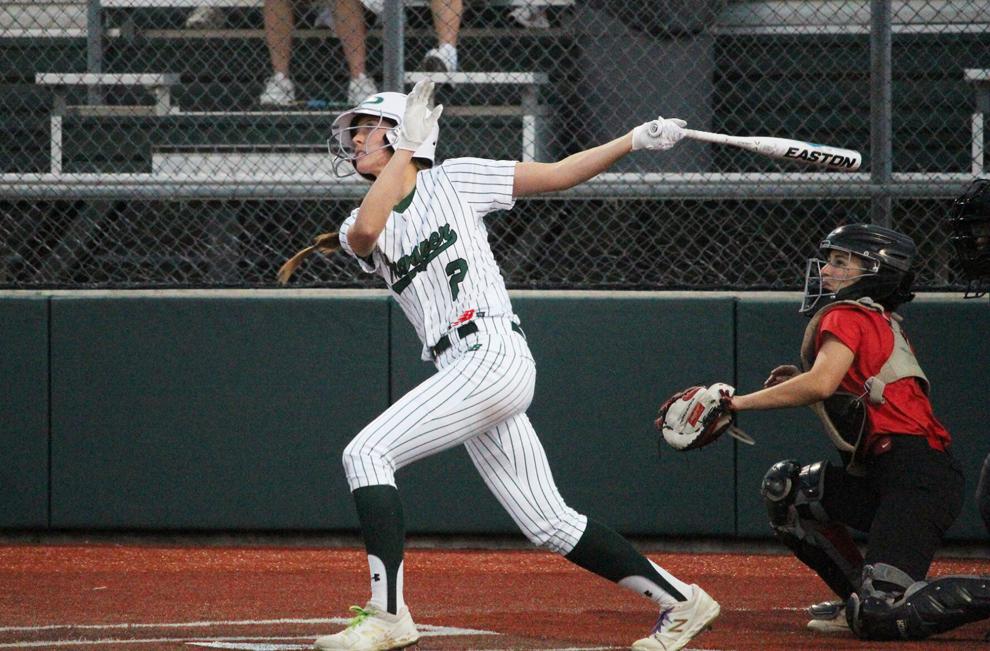 It was a blitz that not even high-powered Prosper could match. The Lady Eagles began the night on a promising note, leading off the bottom of the first inning with a solo home run by senior Ayden Allen. Freshman Lyndsey Hooker plated a run on a sacrifice fly, and senior Elizabeth Moffitt scored on a passed ball for a quick 3-0 Prosper lead.
The Lady Marauders allowed just two more runs the next of the way, both coming on solo home runs. Allen hit another in the fourth inning and junior Ezra Arredondo went yard in the fifth. Overall, Marcus and Prosper combined for six home runs on Friday.
The win advanced the Lady Marauders to the area round of the playoffs to meet either Arlington Martin or Irving MacArthur at a time and place to be determined. Prosper, meanwhile, closes out its season at 27-6-1 overall.
"It's a goal we've had for several years, not just to make the playoffs but to do something with it," Tumilty said. "Our district is tough and I think that really helped us and prepared us for all the adversity we dealt, right down to those last three innings of the game."
Hebron weathers slow start to top Little Elm
On the heels of winning the first district championship in program history, the Hebron softball team incurred a different level of adversity to open Friday's one-game bi-district playoff against Little Elm.
The Lady Lobos led the 6-6A champions by as many as five runs early into the contest, only for Hebron to return fire and tough out a 9-7 victory for the Lady Hawks' first playoff series win since 2014.
It wasn't for a lack of effort from upset-minded Little Elm, which struck for a 5-0 lead in the first inning. Back-to-back RBI hits from junior Kyrsten Moran and senior Georgia Heathcock got the ball rolling and sophomore Maria Florentino added a three-run homer for the five-run lead.
It was just the second time since Feb. 18 that a team had scored five runs on Hebron, but the 6-6A champs managed to respond. The Lady Hawks chipped away in the third and fourth innings before taking the lead in the fifth thanks to an RBI single from freshman Allie Lovett.
Sophomore Haley Butker plated another run on a groundout and junior Zoe Bowen upped the count to 9-6 in the sixth inning with a solo home run.
Junior Shorey Nguyen had two hits in the win as one of eight Lady Hawks to log at least one hit.
Little Elm, however, managed a 14-9 advantage in the hit column. Heathcock, Mince and Florentino had three hits apiece, with the lattermost logging four RBIs in the defeat.