ARLINGTON — For the second time in just over a week, Flower Mound senior Natalie Cook ran her way into the state record books.
The Lady Jaguars' distance-running phenom clocked a 9:52.45 on April 21 to break the state record in the 3,200-meter run. On Saturday, Cook added the mile record to her momentous senior season — running a 4:36.96 to comfortably eclipse the previous state 1,600 mark of 4:43.52, set by Greenhill's Chelsey Sveinssen in 2008.
"It feels great. I haven't been able to break 4:40 — I've been stuck in 4:45 — but we did a speed workout (on Tuesday) and I feel like that really helped a lot this week," Cook said.
Cook's record-setting afternoon was one of several highlights turned in during Saturday's Region I-6A track and field championships, held at The University of Texas at Arlington. In addition to breaking the 1,600 record by more than six seconds, she demolished the regional meet record of 4:46.85 by nearly 10 seconds.
"I could hear my dad (Flower Mound head coach Andrew Cook) screaming, 'You're under 4:40! Go, go, go!'" Cook said. "I saw some teammates who came in from college and that really helped. I saw people cheering for me and I just wanted to finish."
Wow, @fmhsrunning's Natalie Cook absolutely demolishes the Region I-6A record in the 1600. She clocks a 4:36.96, just short of 10 seconds faster than the previous regional record. Wouldn't shock me if there's more UIL history attached to that time. pic.twitter.com/hTDd667jWm

— Matt Welch (@MWelchSLM) April 30, 2022
Cook's distance from the pack was reflective of the Flower Mound girls' overall team performance at regionals. Already with district and area championships under their belts, the Lady Jaguars added a Region I-6A championship to their postseason resume after amassing 106 points — more than double the total of second-place Allen (52).
The top two finishers in each regional event automatically qualify for state, scheduled for May 12-13 at The University of Texas at Austin, as well as the top third-place finish across all four UIL regions. There will be plenty of representation in Austin from both Flower Mound and the rest of Lewisville ISD.
Cook accounted for two of the Lady Jaguars' eight top-two finishes at regionals. She also won the 3,200 at 9:54.66, finishing ahead of teammate and sophomore Samantha Humphries in second place at 10:28.39. Humphries also took second in the 800 with a 2:09.56, while her twin sister, sophomore Nicole Humphries, was runner-up in the 1,600 (4:54.33).
Junior Riley Ward captured gold in the high jump (5-8), senior Eva Vreeland added second place in the 300 hurdles (42.85), and the Lady Jaguars' 4x400 relay placed second (3:50.07).
On the boys side, Flower Mound junior Cooper Davis qualified for state after taking second in the 110 hurdles (14.35).
In addition to Flower Mound, LISD bunkmates Marcus, Hebron and Lewisville all qualified at least one student-athlete for state.
Marcus junior Emma Sralla will be busy in Austin after sweeping the throwing events. Sralla has the nation's top mark in the discus throw at 185-0 but needed just 177-6 to cruise to the regional title on Saturday — a throw that would have won boys' event by nearly 16 feet. One day prior, Sralla won her first regional championship in the shot put with a 43-7 1/4.
"I feel like I did pretty good. With 177, I did miss it a bit, but I still feel like that's a great throw for me," Sralla said. "I can't be disappointed with that, but I know there's more in the tank for sure, which is pretty exciting."
She'll be joined in Austin by Hebron senior Skylar Bohlman, who finished second in the discus throw at 155-9. Teammate and senior Kelis Armstrong is also state-bound for the Lady Hawks after placing second in the triple jump (38-5). Junior Brayden Jones, meanwhile, qualified in the pole vault after placing second (15-0).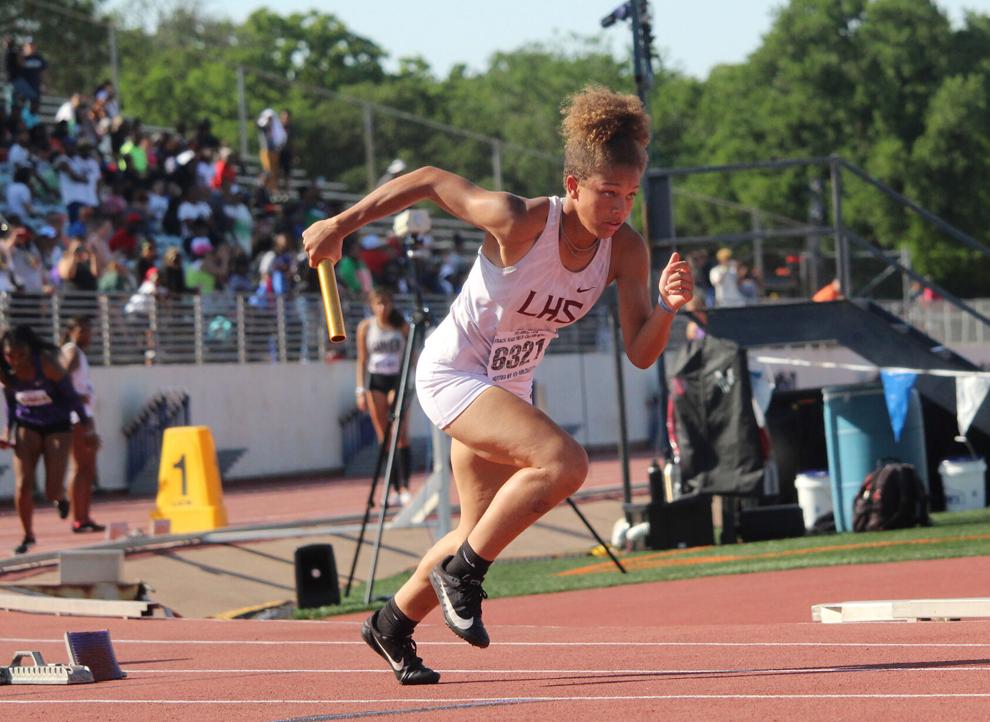 Lewisville will have a strong turnout for the state meet as well, placing both its boys and girls teams in the top six of the regional standings. The Lady Farmers came away with gold in the 4x200 relay (1:37.53), a race where the Lewisville boys took second (1:27.35).
The Farmers nabbed two silver medals in the 100 as well — junior Te'Anna Harlin ran an 11.74 and junior Xavier Lewis clocked a 10.67 in the closest finish of the afternoon. He finished just one-hundredth of a second behind Jesuit's Hunter Krepp at 10.66.
Much like Lewisville, Allen had a balanced showing at regionals with its boys team claiming second overall in the team standings (47) and its girls finishing third (49). The Eagles totaled four wins at regionals, enjoying first-place runs in the boys' 4x100 relay (41.65), the girls' 4x400 relay (3:46.43), junior Sidney Green in the 300 hurdles (42.01) and senior Tsegaya Fazarro in the 200 (21.39).
Freshman Jonathan Simms qualified in the 400 for Allen, taking second at 48.23.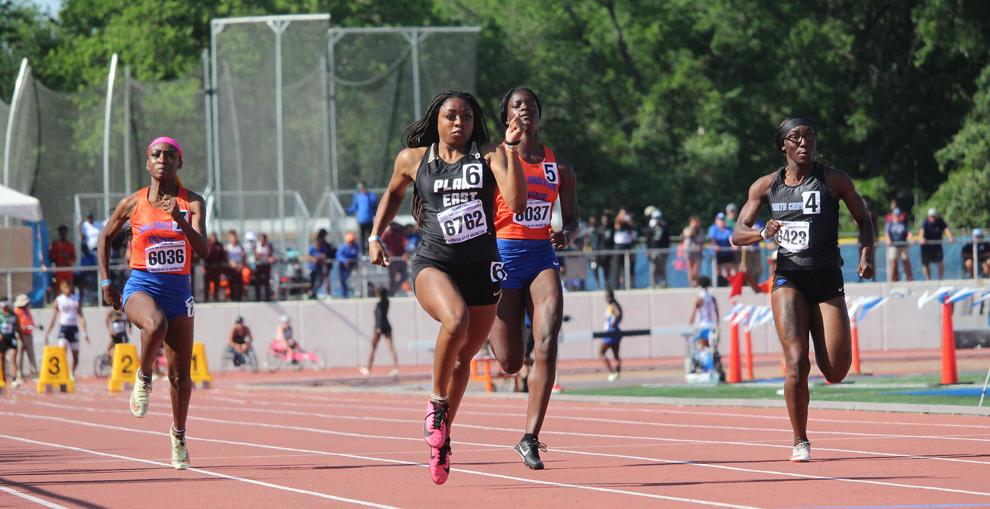 The Allen girls finished just three points below second-place Plano East, who turned in another strong regional meet on the strength of three gold medals won in the sprints. Senior Tiriah Kelley had a hand in all three events, defending her regional titles in the 100 (11.44) and 200 (23.15) -- the latter a meet record -- while also running the trail leg in East's first-place 4x100 relay (46.23).
"It helps keep me strong because when everyone is expecting you to get first you want to keep that motivation and continue to make your friends and family proud," Kelley said. "I'm slowly getting better and have still been able to win these races, which is great. I'm proud of it, but I know I can focus more on my start going into state."
The Lady Panthers will be joined at state by East senior Aiden Hayes, who qualified in the high jump after taking second place at 6-6.
The Plano West boys enjoyed a resurgent regional meet, posting third place in the team standings at 34 points. The Wolves exited Arlington with three gold medals for their efforts, including two wins for senior Hudson Heikkinen in the 3,200 (9:15.32) and 1,600 (4:13.27). Teammate and senior Jayden Louis-Charles added first place in the triple jump at 48-6.
Prosper managed three gold medals in its latest run through regionals. Senior Aubrey O'Connell, the defending state champion in the 800, ran a 2:08.68 to win that race on Saturday, while junior Kayla Watson took the top spot in the long jump at 20-4 1/4, a meet record.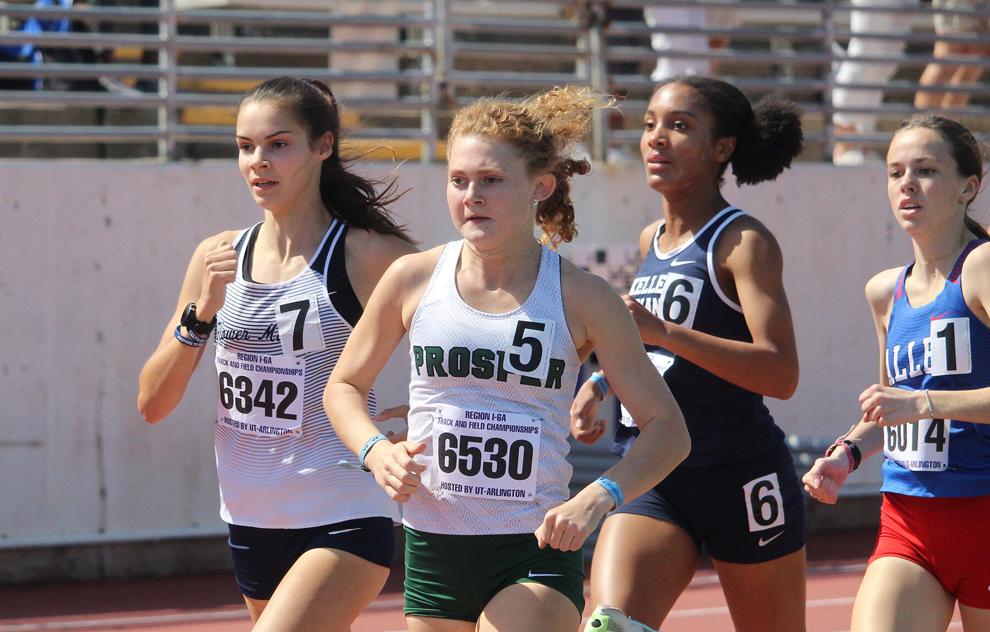 Fellow Lady Eagle and junior Lauren Lewis qualified in two events after winning the 400 (53.92) and placing second in the 200 (23.73).
"I'm very satisfied. I had never broken 55 (in the 400) until yesterday and then today was my first time breaking 54, which is absolutely crazy," Lewis said. "I dedicated my race to my father since he couldn't be here. He's still alive but couldn't be here, but I know he'll be watching the videos of this race. I was thinking of him at the finish line, telling me to push through."
Coppell junior Skyler Schuller doubled up her workload for state as well, winning the pole vault at 13-6 and taking second in the high jump at 5-7. Schuller was the state runner-up in the pole vault as a sophomore.
McKinney Boyd, meanwhile, capped Saturday's meet on a high note after placing second in the 4x400 relay (3:17.68) to qualify for state. The Broncos made the cut in a race that saw first and third place separated by just .15 seconds in the standings.