FLOWER MOUND — When the Marcus boys basketball team had its way with Lewisville in the teams' first meeting last season, it was deemed an upset of a fringe playoff team over a district championship contender.
Tuesday's renewal of the longtime Lewisville ISD rivalry produced a similar outcome, only this time it was the lone remaining unbeaten squad in District 6-6A further asserting its status as the conference's team to beat.
Leading wire-to-wire, the Marauders improved to 4-0 in district play after blasting the state-ranked Farmers (2-2), 71-47.
"This was a big one for us. This puts us at 4-0 in district and a game up on them. We're just trying to create as much separation as we can," said Shane Rogers, Marcus head coach. We feel like that first round is really important with everything that's going on, so we just try to come out, throw the first punch and not get outworked."
And punch they did. 
The Marauders struck for the game's first six points, blitzing the Farmers with a parade of baskets at the rim — fueled by tempo and ball movement. It took just over six minutes into the evening for Marcus to build a double-digit lead, which came at 20-10 on a floater in the lane by senior Nick Donnelly. The Marauder advantage never crept below eight points the rest of the way.
Five minutes into the ballgame, Lewisville only had one defensive rebound — unable to deter Marcus from finding the bottom of the net out of the gates and ultimately trailing 24-13 after one frame.
The Marauders swelled that lead to 39-23 by halftime with Donnelly leading the charge. The point guard poured in a game-high 25 points, including three makes from beyond the arc, and also grabbed nine rebounds.
"Nick's a heck of a player. He's a three-year varsity guy for a reason," Rogers said. "He's a great catch-and-shoot guy, obviously, but he was making some great passes and getting some big rebounds. Overall, he handled the pressure pretty well."
Donnelly was one of three Marauders in double figures, with senior Cale Martens logging 13 points and eight boards and senior Myeles Malbrough came off the bench to spark the second unit with 12 points. Those two were among a score of rangy, versatile Marcus players who had their way with Lewisville both inside, be it on slashes or post-ups, or by spacing the floor.
"Offensively, it makes us tough to defend," Rogers said. "We feel like we'll have a matchup issue somewhere, one through five. I think it's part of what makes us effective on defense as well — our length and ability to switch, plus that size always helps with rebounds, too."
That effort short-circuited Lewisville's half-court offense for large stretches on Friday, with the Farmers opting to amp up their pressure and tempo during a resilient third quarter that saw them trim their 16-point halftime deficit down to eight points late in the frame. Marcus led 51-39 through three frames before scoring the first seven points of the fourth quarter to restore the blowout.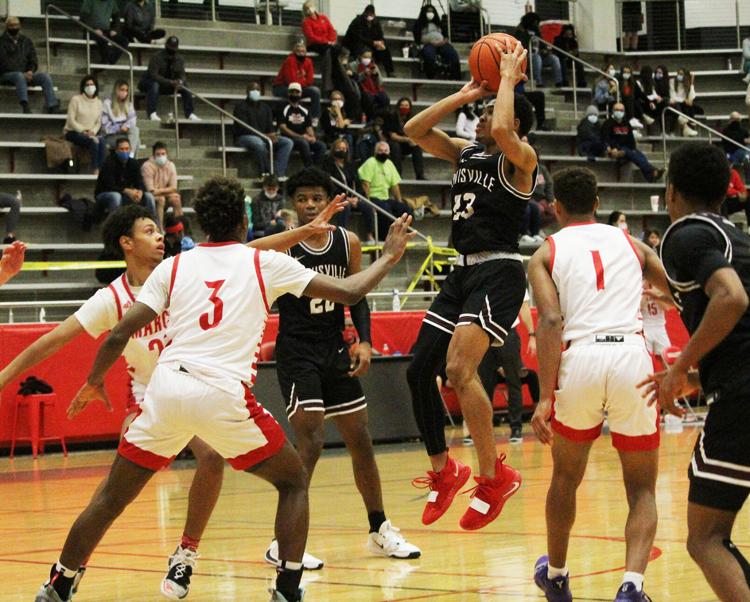 "I think we're in a bit of a rut right now and I feel like our youth was apparent tonight," said Brian Miller, Lewisville head coach. "We just haven't looked like us these last couple games, so we'll go watch the film and see what can be done to correct it. It wasn't that we didn't play hard but just not hard in all the areas — things like rebounding and decision-making. I think that's just a learning process when you don't have many kids that played varsity."
Lewisville senior Kylin Green tallied 20 points in the defeat, as the Farmers, who entered the week ranked No. 16 in Class 6A by the Texas Association of Basketball Coaches, suffered their second straight loss during a pivotal week that featured setbacks against Marcus, ranked No. 23, and two-time reigning district champion Coppell.
"This year has been different," Miller said. "We haven't had that adversity you usually get from tournaments and more games to play, so we're hitting that right now. We've got to see how we handle it."
They may have to do so without one of their starters after junior Will Curtis suffered a neck injury late in the ballgame following a hard fall while contesting a layup. Curtis laid on the court for roughly 20 minutes before being stretchered off the floor.
"We just wanted to finish the game so we could go through and see what's happening," Miller said. "There wasn't a whole lot of information. I know he's feeling everything, so we just need to go to the hospital and see how he's doing."
At the time of Curtis' injury, Marcus led 66-45 with 3:18 to play in the contest.
The Farmers look to bounce back at 8 p.m. Tuesday when they welcome Hebron. Marcus, meanwhile, hosts Plano East that same night at 7:30 p.m.