COPPELL — The Marcus volleyball team won its 10th match in a row on Tuesday, including its second to begin District 6-6A play. Coppell made sure the Lady Marauders had to earn every last point to get there.
Marcus stayed perfect in league action after taking picking up a 3-1 victory on the road (25-20, 25-21, 21-25, 30-28) on Tuesday but had to withstand a furious surge by the Cowgirls over the back half of the match.
That was no more apparent during a frenetic finish to the night's fourth set — a marathon frame that included 15 ties and five lead changes, the majority coming late in the set en route to a 30-28 finish.
"We had to do this almost every game when we went to Austin for a tournament," said Danielle Barker, Marcus head coach. "We were always in a constant fight mode and I think that was a really good practice for us, so we were comfortable in those situations. They've learned how to fight through moments like this and not let mistakes get to them. That tournament helped us be tough tonight."
FINAL: @MarcusHSvb1 3, @CowgirlsVB 1 (25-20, 25-21, 21-25, 30-28)Lordy lordy what a finish to this one. Both teams fought off match points by the other, but it ends on 2 straight by Marcus, capped by a block from Ifenna Cos-Okpala to send Marcus to 2-0 in 6-6A. Fun stuff. pic.twitter.com/RCGtSqjtCo

— Matt Welch (@MWelchSLM) September 15, 2021
Both fanbases hung on the ebb and flow of each point down the stretch. With senior Maggie Boyd hammering away at the Coppell defense, the Cowgirls managed to fight off three match point opportunities for Marcus by relying on the duo of junior Allie Stricker and senior Aley Clent to attack the Lady Marauders up the middle.
After Clent put down her third of kill of the set, Marcus committed an error on a miscommunication to put the Cowgirls ahead, 27-26.
"They fought hard. We've talked all season that it's going to take that kind of fight to survive in a district where everybody is fighting hard and every match is big," said Libby Pacheco, Coppell head coach. "I was proud to see them not give up because they totally could have."
The Cowgirls then had two cracks at set point go awry on a pair of errors before the Lady Marauders racked up the final three points of the match. A Coppell service error was countered by an ace from senior Madison Dyer to nudge Marcus back ahead, 29-28. 
That set up a match-winning block by senior Ifenna Cos-Okpalla, who denied a strike by Clent to seal a dramatic finish.
"We kept telling me to defend the middle," Barker said. "We talked about it each timeout and when she got that block, it was a little ironic that that was how we ended the game. We rely on Ifenna's presence at the net heavily and I was glad to see it end that way."
It was a fitting coda to a match with playoff-level intensity — one that initially favored the Lady Marauders, who showcased their hitting depth to seize the first two sets on Tuesday. Boyd led the charge with seven kills in both the first and fourth sets on her way to 19 on the night, complemented by Cos-Okpalla (nine kills, seven blocks) and junior Maggie Cox (seven kills).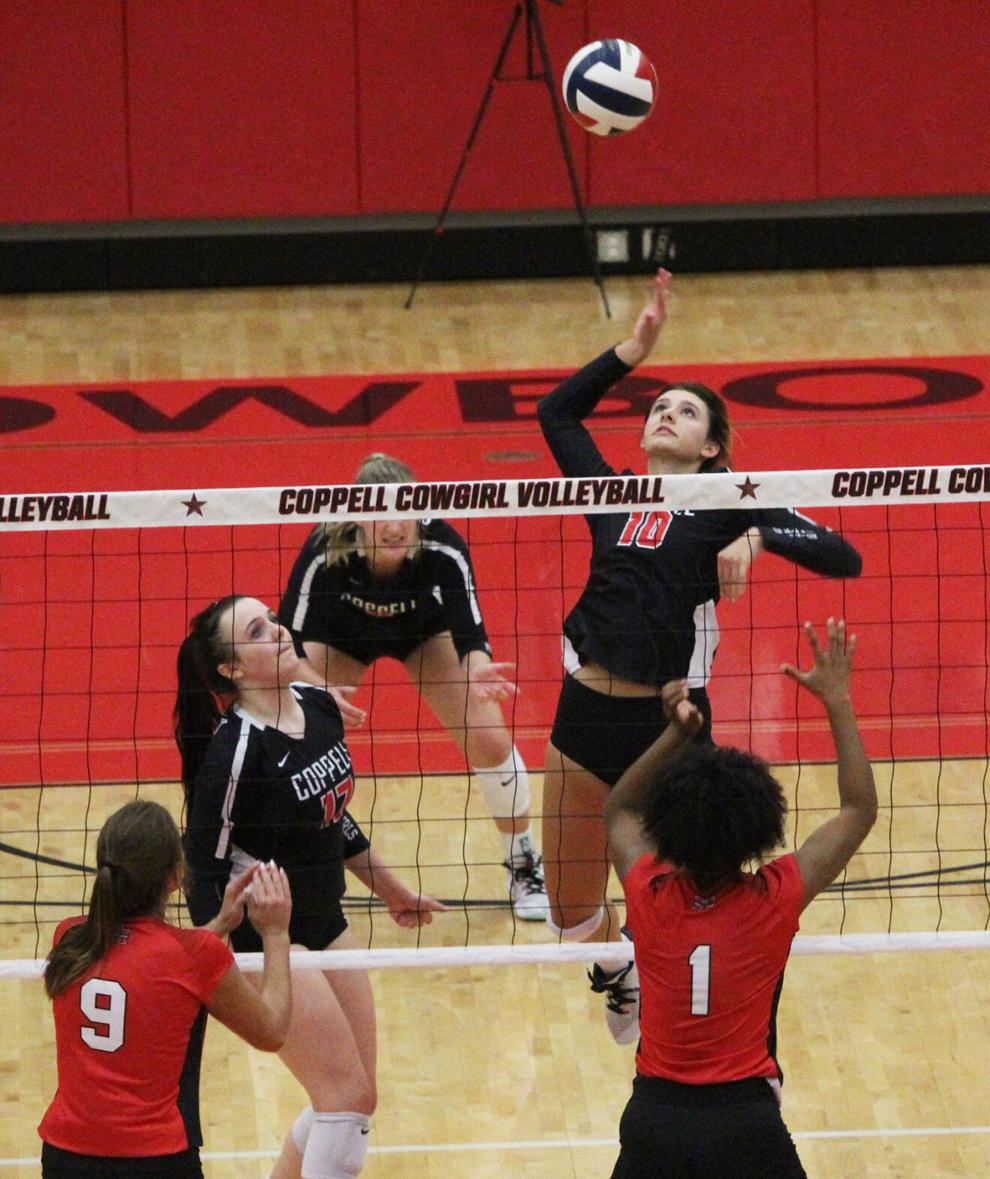 Marcus even managed to build a 7-3 lead in the third set before Coppell rallied behind a furious effort behind the service line by junior Skye Lamendola. She keyed a 7-0 run that included three aces to pull the Cowgirls in front, 10-7. Lamendola's serving was a constant on Tuesday, piling up seven aces against the Lady Marauder defense. She added nine kills in the loss as well.
Coppell also made it a point to establish Clent in the middle. The 6-foot-5 middle hitter totaled just two kills through the first two sets but erupted for five kills in the third stanza to help stave off Marcus' bid for a sweep.
"They woke up and realized that these are big games. We have to start finding ways to win in district regardless of who's on the other side," Pacheco said. "We did some things to put a little more pressure on them. We started serving a little bit tougher and got them in some bad rotations. We took advantage of that and volleyball is a momentum game, so it was just a matter of building on that."
@CowgirlsVB is on the board! Coppell takes set 3 vs Marcus 25-21 on this kill by Allie Stricker. Cowgirls got a big set up front from Alessandra Clent, who had 5 kills and didn't meet much resistance from the Marcus D in doing so. Marcus leads the match 2-1. pic.twitter.com/rvx7qNHEbM

— Matt Welch (@MWelchSLM) September 15, 2021
Stricker led the charge with 13 kills, including six in the second set, and Clent totaled 10 as Coppell dipped to 0-2 in district play. Matches against Flower Mound and Marcus have made for an arduous start to 6-6A for a Cowgirl team that won 20 matches in the preseason. The team looks to right the ship at 6:30 p.m. Friday at Plano East.
Marcus, meanwhile, improved 19-5 on the season and is unbeaten since Aug. 27.
"I like that none of our games have been easy. Usually when you get on a streak like this, there will be a handful of easy games along the way but every team we've played has been really good," Barker said. "To win this many consistently and in a row against good teams really shows the fight these girls have. We have Maggie and Ifenna, but our whole team contributes. It's been good for the team, their confidence and their belief that they're better."
The Lady Marauders get a chance to extend their winning streak at 6:30 p.m. Friday at Lewisville.
@MarcusHSvb1 takes set 1 vs Coppell 25-20. Maggie Boyd, fresh off a 34-kill week, logs 7 in the opening frame here in Coppell, including set point below. pic.twitter.com/pNV34gluFP

— Matt Welch (@MWelchSLM) September 15, 2021